Please see below webinars hosted by NZAG. Click the images on the right if you wish to watch recordings of the webinars and access PDF versions of the presentations.

Christchurch Memorial Oration: Dr Margaret Guthrie
NZMA South GP CME
Friday, 27 August 2021
Ngaire Kerse, Joyce Cook Chair in Ageing Well
This is a copy of a lecture of honour given as part of the GP CME conference in 2021 by Ngaire Kerse the current president of NZAG. Margaret Guthrie is the founder of the NZAG and a life member. Please enjoy her story.

Primary Care and Older People: Searching for solutions
Wednesday, 23 June 2021
Ngaire Kerse, Joyce Cook Chair in Ageing Well
As we move through our ageing demographic the place of primary care will be increasingly important in managing health service utilisation and promoting wellbeing through late life. This presentation will outline the demography and health issues and talk through strategies in primary care that have been tested. NZ research will be highlighted along with findings of a systematic review. Viewers will come away with a more complete picture of the complexities and potential primary care based strategies.

A lockdown family of 30 informs future residential dementia care models
Thursday, 6 May 2021
Dr Lorraine Ritchie
During the 2020 COVID 19 lockdown period, RN and care assistant staff of one dementia facility (50 beds) in the Dunedin area moved in with their residents for 6 weeks. Listen to the stories of the compassionate caring of staff, and the transformation of residents to become a family of 50. This qualitative study informs ideas for a new model of dementia care.

Transitions to new routines
Thursday, 28 May 2020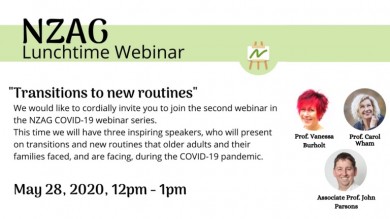 Prof. Vanessa Burholt
Social support network types, isolation and loneliness in the older population
Prof. Carol Wham
Eating Well out of Isolation
Associate Prof. John Parsons
Healthy for Life: a TV saga of collaboration

4 Experts at Level 4, for older people
Thursday, 16 April 2020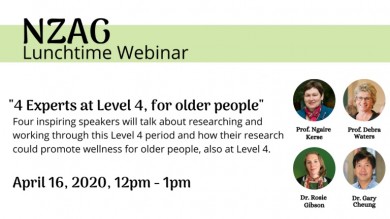 Prof. Ngaire Kerse
Living in residential care: to shelter and attend
Prof. Debra Waters
Maintaining strength and balance in your own home
Dr. Rosie Green
Sleep related disruptions and their management during Alert Level 4
Dr. Gary Cheung
Virtual psychosocial group programme for people with dementia